Can-Am Defender Utility Vehicle Makes It's Debut
Sep 24, 2015
The all new Can-Am Defender was just unveiled in Nashville, TN last weekend and it looks like a homerun for anyone wanting a tough, capable and clever utility vehicle.
The Defender comes in 4 Models:  Defender, DPS, XT and XT CAB.
DPS gives you power steering.
XT adds a 4500 lb winch, Bighorn Tires, more storage, 14" Black Cast Aluminum Wheelsand a full hard roof. 
The XT CAB comes with everything the XT has plus Full Black Doors with Electric Opening Windows, Full Glass Tilt Up Windshield with Wiper/Washer Kit, Rear Glass with Sliding Opening.
The cargo box is equipped with Can-Am's exclusive LinQ quick-attach system.  Haul up to 1000 lbs in the back and still have room for 2 passengers up front with a total 1500 lb payload.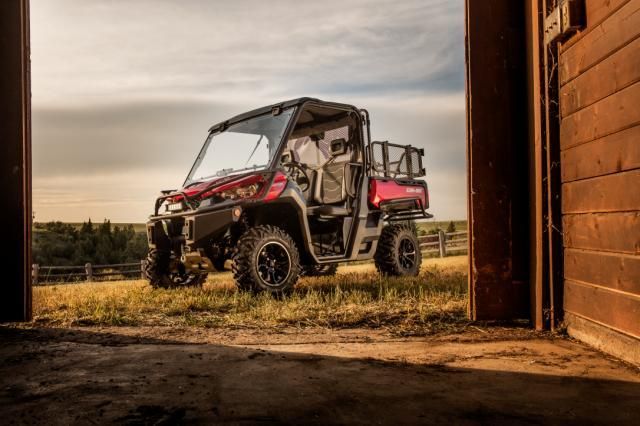 All 4 models come with the True 4-mode traction system: 2x4 open rear dif., 2x4 locked rear dif., 4x4 open rear dif., 4x4 locked rear dif.  Get Visco-Lok with Defender and Visco-Lok QE with the other 3 models.
Choose the HD8 50 HP or the HD10 75 HP for every model except the XT CAB model only comes with HD10 engine.  And of course Can-Am's new Rotax engines have been recalibrated for heavy-duty performance.
 The intuitive and roomy cockpit is designed for comfort and function.  Engineered with a pushed-forward front cage for easy access and exit.  The Defender is loaded with small details that make for an enjoyable experience like the shaped seat design, adjustable driver seat, tilt steering, folding center armrest, grab bar and footrests.  Comfort and convenience go hand in hand with the Defender.
With best-in-class tight turning radius combined with Dynamic Power Steering and Maxxis Bighorn 2.0' 27-in tires you get a very agile utility side-by-side.
From the looks of things Can-Am has done it's homework to provide a tough, capable and clever utility vehicle that provides convenience and common sense for the work-minded customer.
Add Pingback
Please add a comment
You must be logged in to leave a reply.
Login »